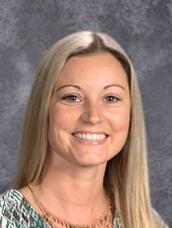 Phone: 609-893-8141 x1500
Email:
Degrees and Certifications:
B.A Elementary Education Early Childhood Certification
Ms.

MacFarland

Hello B4 families! My name is Jamie MacFarland and I will be your child's preschool teacher this year. However, there are three other very important people in our room who work along side of your children, as well. The first is Mrs. Hurley, who our special education teacher. She comes in to support the children throughout the day. Next, is Mrs. Gendron, our classroom aide. We also have Mrs. Perez, our classroom helper aide. Throughout the day, we are all actively engaged in your child's learning experience. I, personally, am so excited to have the opportunity to work with your children this year and watch them grow! I first gained my B.A in Elementary Education (K-5) from Monmouth University and began substitute teaching to discover which age group I would enjoy working with the most. Throughout my experience, I realized that my passion was for teaching preschool instead of elementary school, so I went back to Monmouth University to complete my Early Childhood (P-3) certification. While going back to school, I was an aide at PECEC in an inclusion classroom for two years. Upon completion of my preschool certification, I was fortunate to expand my career here at PECEC as a teacher. This is now my seventh year teaching and my third year teaching in an in-class resource room. I couldn't be happier with my decision to teach preschool! I truely believe that it is my passion for teaching and my experiences that have helped shape me into the teacher I am today. It is my goal for this year to meet each child in their model of the world in order for them to reach their fullest potential. I will do so by creating lessons around their interests and working with each child at their level of development. I look forward to working with all of you to have a successful 2020-2021 school year. If you ever need to contact me please do not hesitate to email me at jmacfarland@pemb.org or Mrs. Hurley at thurley@pemb.org, write a note in your child's agenda book, or call the school at 609-893-8141 x1500.