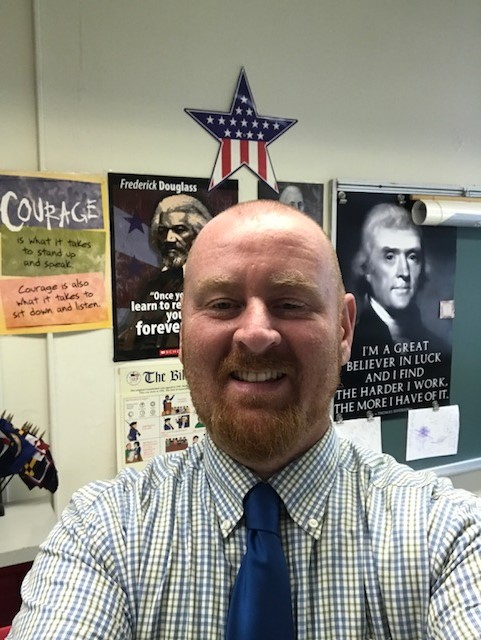 Phone:
Email:
Degrees and Certifications:
Mr.

Scott Golluscio

Welcome to Helen A. Fort Middle School! I am thrilled to be a recent addition to the learning community here in Pemberton Township. I am the 8th Grade Social Studies teacher on the A.V.I.D. team. This past Spring of '17, I was a student teacher for the 7th Grade Social Studies team here at Helen Fort. Upon finishing my Graduate College program, I immediately began working as a substitute teacher all throughout Pemberton's School district, so I feel quite at home here being in the perfect place at the perfect time.

In the Spring of 2017, I earned my Master's Degree with distinction from Rider University, finalizing my New Jersey Certificate of Education with Advanced Standing in Secondary Social Studies. I was also a Summa Cume Laude graduate of Rider University's class of 2015, completing my Bachelor's Degree in the Liberal Arts and Sciences, with a double Minor in History and in American Studies.

I have always had a great passion for history and world cultures because it directly relates to how we as individuals and a Nation interact with the world around us, and globally. I believe that we can better accomplish the goals of today, fulling understanding the victories and losses of yesterday. The core of my teaching philosophy is to create culturally competent civic minded adults, that will be able to intellectually formulate their own opinions and positively effect their community no matter where they may travel. My teaching goals for the year are to create a safe and validating learning environment, so that every student may feel empowered to grow their content knowledge regarding America's history and cultural advancements. Having had several inclusion classes while student teaching here at Helen A. Fort Middle School, I will help each student grow their content knowledge regardless of educational obstacles.

I am extremely excited to have the opportunity to help educate each student at Helen A. Fort grow both academically and as an emerging adult.