Phone:
Email:
Degrees and Certifications:
Ms.

Jennifer Rodier

Introducing your School Counselor !

Welcome Parents and Students!

My name is Ms. Rodier and I am the School Counselor at Haines Elementary School. We are excited for an INCREDIBLE year of learning in the 2018-19 school year!

Our Character Education Program is built around encouraging our students to be Bucket Fillers. Bucket Filling is an easy-to-understand concept: Everyone carries an invisible bucket that holds our good thoughts and feelings. When our buckets are full, we feel happy and when our buckets are empty, we feel sad. We will focus on teaching your children 5 Core Values that are a constant in all of our schools. The Core Values we will focus on are: Respect, Responsibility, Integrity, Perseverance and Service. These topics will rotate every two months through June.

I strongly encourage you to purchase the book, "Have You Filled a Bucket Today?" A Guide to Daily Happiness for Kids by Carol McCloud, (Amazon, $8) to further understand the concepts we are building with your child while they are at school.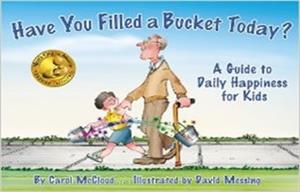 Teachers will be reading this book all students this fall. Classrooms will have community buckets where students will be working hard to be "Bucket Fillers". When a student is observed doing or saying something kind to a fellow classmate, teachers will write this down and add it to the bucket. Our goal is to reinforce positive social interactions throughout the year in order to start a chain reaction of kindness in our schools!
When you see your child going out of his/her way to do something kind for a family member or friend, WRITE IT DOWN and send it to your child's teacher so that we can celebrate your child both at home and in school. Recognizing our students for the kind words/actions helps them to become more confident, secure, patient and friendly human beings!
I look forward to yet another great year! If you have any concerns or questions, I can be reached at (609)893-8141 ext. 1172.