Return to Headlines
One Book One School 2019-20
It is that time of year again when we introduce our One Book One School selection;
Losers Bracket by Chris Crutcher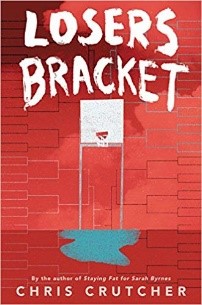 When it comes to family, Annie is in the losers bracket. Don't get her wrong, her foster parents are great, even if Pop is a little too concerned about Annie getting an athletic scholarship. But Nancy, her birth mom, and her sister, Sheila, are . . . less than ideal. And no matter how hard Annie tries to stay away from them, she always gets sucked back into their lives and their messes. She tells herself she's doing it for Sheila's son, Frankie, but she knows her issues with her birth family are more deeply rooted. Then a family argument at one of Annie's swim meets escalates and Frankie goes missing.
We will be participating in our book sharing program as we did last year. Once you read the book, return it for the next person to read. Pick up and drop off locations will be located in the main office or guidance office. We will be handing out copies of the book on Tuesday, June 11th to our 9th-11th grade students.
The book is also available other formats: e-book and audiobook through our Follett Destiny program. See Ms. Carvin for details in accessing these formats from your phone, tablet and personal computers.
When we return to school in the fall of 2019 we are going to hold a Double Elimination Knowledge Bowl!
There will be 16 teams (1 teacher and 4 students per team) competing for a prize trip to watch a basketball game!
Feel Free to Visit the author's website: http://www.chriscrutcher.com/biography.html