Return to Headlines
Denbo School Honored for FLU Prevention 2018-2019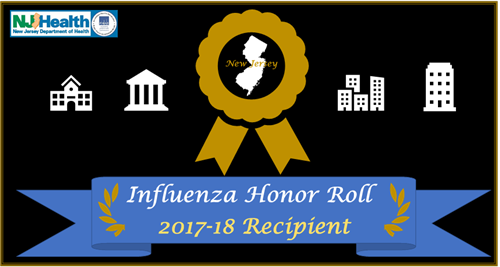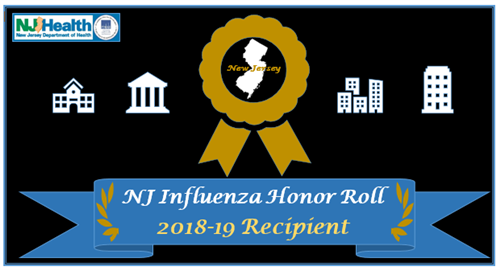 Congratulations to our school nurse, Mrs. Horton, for her efforts to fight influenza. Our school was recognized by the NJ Department of Health for the 2nd year in a row (2017-2018 & 2018-2019). Click HERE to see the acknlowledgement of Denbo's comittment to promoting influenza prevention and to protecting and improving the health of community during the 2018-2019 flu season. Congrats again, Mrs. Horton!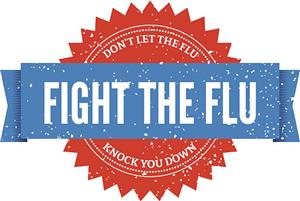 *Information provided by CDC:
What is Influenza (also called Flu)?
The flu is a contagious respiratory illness caused by influenza viruses that infect the nose, throat, and sometimes the lungs. It can cause mild to severe illness, and at times can lead to death. The best way to prevent the flu is by getting a flu vaccine each year.
Signs and Symptoms of Flu
People who have the flu often feel some or all of these signs and symptoms that usually start suddenly, not gradually:
Fever* or feeling feverish/chills

Cough

Sore throat

Runny or stuffy nose

Muscle or body aches

Headaches

Fatigue (very tired)

Some people may have vomiting and diarrhea, though this is more common in young children than in adults.
*It's important to note that not everyone with flu will have a fever.
When & How to Wash Your Hands
Keeping hands clean through improved hand hygiene is one of the most important steps we can take to avoid getting sick and spreading germs to others. Many diseases and conditions are spread by not washing hands with soap and clean, running water. If clean, running water is not accessible, as is common in many parts of the world, use soap and available water. If soap and water are unavailable, use an alcohol-based hand sanitizer that contains at least 60% alcohol to clean hands.
When should you wash your hands?
Before, during, and after preparing food

Before eating food

Before and after caring for someone who is sick

Before and after treating a cut or wound

After using the toilet

After changing diapers or cleaning up a child who has used the toilet

After blowing your nose, coughing, or sneezing

After touching an animal, animal feed, or animal waste

After handling pet food or pet treats

After touching garbage
How should you wash your hands?
Wet your hands with clean, running water (warm or cold), turn off the tap, and apply soap.
Lather your hands by rubbing them together with the soap. Be sure to lather the backs of your hands, between your fingers, and under your nails.
Scrub your hands for at least 20 seconds. Need a timer? Hum the "Happy Birthday" song from beginning to end twice.
Rinse your hands well under clean, running water.
Dry your hands using a clean towel or air dry them.
For additional information, please click on the links below...
Datos clave sobre la influenza