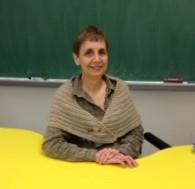 Phone:
Email:
Degrees and Certifications:
Amy Stollsteimer

Hello. I'm Amy Stollsteimer. With dual certification in general and special education, and a MAT in special education, I've taught in a variety of Pemberton elementary settings for more than 20 years. Having completed Fairleigh Dickinson graduate courses and supervised teaching at the Dyslexia Center, I hold International Dyslexia Association Dyslexia certification. I currently teach Multi-Sensory Literacy.

Using all the senses to engage students in learning the patterns and rules for reading and spelling, it's my goal to systematically build from students' strengths to help them develop reading skill. As Benjamin Franklin said, "Tell me and I forget, teach me and I may remember, involve me and I learn."

I'd like to invite families to share in celebrating student's accomplishments and look forward to working with you to ensure success.

I can be contacted via Email at astollsteimer@pemb.org or by leaving a message at the Denbo office, 893-8141 ext. 1400.