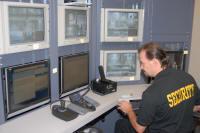 Security and safety issues are major concerns facing school districts today, and at Pemberton Township Schools we take the responsibility to protect our children very seriously. To that end, the district has installed a 3-tiered electronic monitoring system at all district schools, making it one of the most up-to-date and cutting edge security systems available.

All of the district's elementary schools, the early childhood center, and both Helen Fort/Newcomb Middle School and Pemberton Township High School have been outfitted with the electronic monitoring system. This system ensures the district maximum control in allowing people access to the school buildings.

Additional security measures throughout the district include the WeTip anonymous reporting system, portable metal detectors, and security monitors in each school building.

Our goal remains to provide a safe, secure environment for all our students and staff.