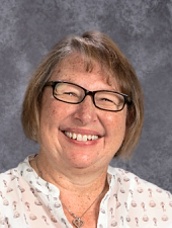 Phone: 609-893-8141 X1500, 8:00 A.M.-4:00
Email:
Degrees and Certifications:
** Bachelor of Science Degree in Early Childhood Education (Trenton State College) ** Bachelor of Science Degree in Elementary Education, K-8 (Trenton State College)
Mrs.

Deborah Hylkema

Welcome to Room C-4 at the Pemberton Early Childhood Education Center. I, along with our classroom's six-hour aide, Mrs. Cox and our four-hour aide, Mrs. Heather Smith, are very excited to begin the year working with you and your child and welcoming back some of our students and families from last year to enjoy a successful school year together.

My name is Mrs. Hylkema and I will be your child's preschool teacher for the 2019-2020 school year. I am starting my 18th year in the Pemberton Township School District working with children in the Preschool Program and it is such a joy for me to be able to do something that I enjoy and love so much in our wonderful facility.

I come from a military family as my father served in the Air Force at McGuire. I was born on Fort Dix and attended Pemberton Township Schools growing up, for a time. I graduated from Trenton State College with a Bachelor's Degree in Early Childhood Education and Elementary Education, K-8. Since graduation, I have worked with all ages of children, Infants to Third Grade. I was also a Director of The Goddard School in Westampton for six years. It is my joy to interact with young children and to see them grow emotionally and intellectually as they explore the world around them. I am also very lucky to be a Mom to our son, Christopher, and my husband and I have been married for 38 years.

In closing, "our team" looks forward to working with you, our families, to enjoy a successful school year. Please feel free to contact me for any questions and/or if you would like to participate in classroom activities. We welcome family involvement and do have special celebrations throughout the school year for you to visit and/or to share in the experiences with your child. You can reach me at 609-893-8141 X1500 or by email at dhylkema@pemb.org. I check my email throughout the school day. You can also correspond with our classroom using the Parent Communication Log. Looking forward to a great school year working together and celebrating in your child's successes.